Zabuza is a villain from the series Naruto. He carries a large sword known as Kubikiribōchō, or the Executioner's Blade and traveled with another ninja known as Haku.

Playable : Yes
Gender: Male
Outfit: Blue
Weapon:
Sharp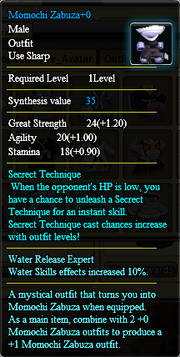 Specialty: Water
Stats:
Great Strength: 24 (+1.20)
Agility: 20 (+1.00)
Stamina: 18 (+0.90)
12 points of Great Strength increases 1% Attack and 1 point of Block.
15 points of Agility increases 1% Speed and 1 point of Dodge.
12 points of Stamina increases 1% HP and Chakra.
Skills: Water Release Expert
Water Release Skills effects increased 10%
Pockie Ninja Outfit Stat Sheet
Great Strength Agility Stamina
Suit Level +0: ║ 24 ║ 20 ║ 18 ║
Suit Level +1: ║ 33.6 ║ 28 ║ 25.2 ║
Suit Level +2: ║ 43.2 ║ 36 ║ 32.4 ║
Suit Level +3: ║ 52.8 ║ 44 ║ 39.6 ║
Suit Level +4: ║ 62.4 ║ 52 ║ 46.8 ║
Suit Level +5: ║ 72 ║ 60 ║ 54 ║
Suit Level +6: ║ 81.6 ║ 68 ║ 61.2 ║
Suit Level +7: ║ 91.2 ║ 76 ║ 68.4 ║
Suit Level +8: ║ 100.8 ║ 84 ║ 75.6 ║
Suit Level +9: ║ 110.4 ║ 92 ║ 82.8 ║
Suit Level +10: ║ 120 ║ 100 ║ 90 ║
Suit Level +11: ║ 129.6 ║ 108 ║ 97.2 ║
Suit Level +12: ║ 139.2 ║ 116 ║ 104.4 ║
Suit Level +13: ║ 148.8 ║ 124 ║ 111.6 ║
Suit Level +14: ║ 158.4 ║ 132 ║ 118.8 ║
Suit Level +15: ║ 168 ║ 140 ║ 126 ║
Suit Level +16: ║ 177.6 ║ 148 ║ 133.2 ║
Suit Level +17: ║ 187.2 ║ 156 ║ 140.4 ║
Suit Level +18: ║ 196.8 ║ 164 ║ 147.6 ║
Suit Level +19: ║ 206.4 ║ 172 ║ 154.8 ║
Suit Level +20: ║ 216 ║ 180 ║ 162 ║
Suit Level +21: ║ 225.6 ║ 188 ║ 169.2 ║
Suit Level +22: ║ 235.2 ║ 196 ║ 176.4 ║
Suit Level +23: ║ 244.8 ║ 204 ║ 183.6 ║
Suit Level +24: ║ 254.4 ║ 212 ║ 190.8 ║
Suit Level +25: ║ 264 ║ 220 ║ 198 ║
Suit Level +26: ║ 273.6 ║ 228 ║ 205.2 ║
Suit Level +27: ║ 283.2 ║ 236 ║ 212.4 ║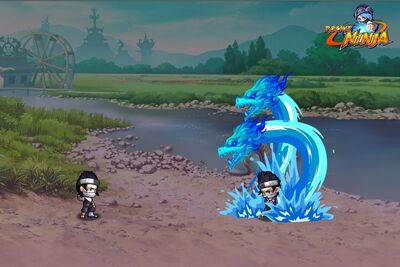 Pockie Ninja Outfit Stat Sheet
| Level | Great Strength | Agility | Stamina |
| --- | --- | --- | --- |
| +0 | | | |
| +1 | | | |
| +2 | | | |
| +3 | | | |
| +4 | | | |
| +5 | | | |
| +6 | | | |
| +7 | | | |
| +8 | | | |
| +9 | | | |
| +10 | | | |
| +11 | | | |
| +12 | | | |
| +13 | | | |
| +14 | | | |
| +15 | | | |
| +16 | | | |
| +17 | | | |
| +18 | | | |
| +19 | | | |
| +20 | | | |
| +21 | | | |
| +22 | | | |
| +23 | | | |
| +24 | | | |
| +25 | | | |
| +26 | | | |
| +27 | | | |