Character Name: Rock Lee

Rock Lee is a one of the Konoha eleven. His background is unknown other than he was an orphan. He is a part of team Guy. And Guy sensei himself sees Lee as his star pupil. Lee acts nearly exactly like his Sensei, Due to Lee seeing Guy as a Fatherly figure. His dream is to one day defeat Neji Hyuuga to prove a ninja can be great without the use of Ninjutsu or genjutsu. He lacks skill in Ninjutsu and Genjutsu, So he relies on his Supreme Taijutsu skills. Using his strength and speed to overcome even the toughest of enemy's.
Playable :
Yes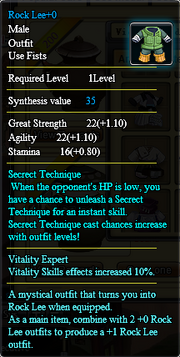 Gender: Male
Outfit: Blue
Weapon: Fist
Specialty: Vitality
Stats
Great Strength: 22 (+1.0)
Agility: 22 (+1.0)
Stamina: 16 (+0.80)
12 points of Great Strength increases 1% Attack and 1 point of Block.
13 points of Agility increases 1% Speed and 1 point of Dodge.
13 points of Stamina increases 1% HP and Chakra.
Skills: Vitality Expert
Vitality Skills effects increased 10%
Pockie Ninja Outfit Stat Sheet
Great Strength Agility Stamina
Suit Level +0: ║ 22 ║ 22 ║ 16 ║
Suit Level +1: ║ 30.8 ║ 30.8 ║ 22.4 ║
Suit Level +2: ║ 39.6 ║ 39.6 ║ 28.8 ║
Suit Level +3: ║ 48.4 ║ 48.4 ║ 35.2 ║
Suit Level +4: ║ 57.2 ║ 57.2 ║ 41.6 ║
Suit Level +5: ║ 66 ║ 66 ║ 48 ║
Suit Level +6: ║ 74.8 ║ 74.8 ║ 54.4 ║
Suit Level +7: ║ 83.6 ║ 83.6 ║ 60.8 ║
Suit Level +8: ║ 92.4 ║ 92.4 ║ 67.2 ║
Suit Level +9: ║ 101.2 ║ 101.2 ║ 73.6 ║
Suit Level +10: ║ 110 ║ 110 ║ 80 ║
Suit Level +11: ║ 118.8 ║ 118.8 ║ 86.4 ║
Suit Level +12: ║ 127.6 ║ 127.6 ║ 92.8 ║
Suit Level +13: ║ 136.4 ║ 136.4 ║ 99.2 ║
Suit Level +14: ║ 145.2 ║ 145.2 ║ 105.6 ║
Suit Level +15: ║ 154 ║ 154 ║ 112 ║
Suit Level +16: ║ 162.8 ║ 162.8 ║ 118.4 ║
Suit Level +17: ║ 171.6 ║ 171.6 ║ 124.8 ║
Suit Level +18: ║ 180.4 ║ 180.4 ║ 131.2 ║
Suit Level +19: ║ 189.2 ║ 189.2 ║ 137.6 ║
Suit Level +20: ║ 198 ║ 198 ║ 144 ║
Suit Level +21: ║ 206.8 ║ 206.8 ║ 150.4 ║
Suit Level +22: ║ 215.6 ║ 215.6 ║ 156.8 ║
Suit Level +23: ║ 224.4 ║ 224.4 ║ 163.2 ║
Suit Level +24: ║ 233.2 ║ 233.2 ║ 169.6 ║
Suit Level +25: ║ 242 ║ 242 ║ 176 ║
Suit Level +26: ║ 250.8 ║ 250.8 ║ 182.4 ║
Suit Level +27: ║ 259.6 ║ 259.6 ║ 188.8 ║
Pockie Ninja Outfit Stat Sheet
| Level | Great Strength | Agility | Stamina |
| --- | --- | --- | --- |
| +0 | | | |
| +1 | | | |
| +2 | | | |
| +3 | | | |
| +4 | | | |
| +5 | | | |
| +6 | | | |
| +7 | | | |
| +8 | | | |
| +9 | | | |
| +10 | | | |
| +11 | | | |
| +12 | | | |
| +13 | | | |
| +14 | | | |
| +15 | | | |
| +16 | | | |
| +17 | | | |
| +18 | | | |
| +19 | | | |
| +20 | | | |
| +21 | | | |
| +22 | | | |
| +23 | | | |
| +24 | | | |
| +25 | | | |
| +26 | | | |
| +27 | | | |