Character name: Naruto Kyuubi Form
Naruto after Nine-Tailed Demon Fox (九尾の妖狐) within Naruto Uzumaki of Konohagakure is released.
Playable:
Yes (Event Only)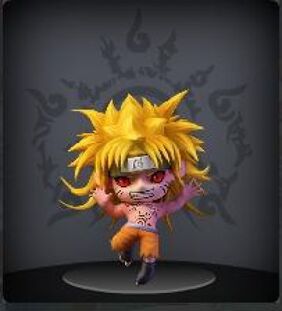 Gender: Male
Outfit:
Orange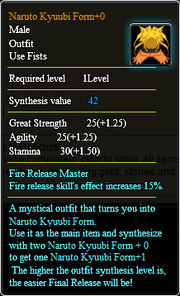 Weapon: Fist
Specialty: Fire

Stats
Great Strength: 25(+1.25)
Agility: 25(+1.25)
Stamina: 30(+1.50)

13 points of Great Strength increases 1% Attack and 1 point of Block.
17 points of Agility increases 1% Speed and 1 point of Dodge.
8 points of Stamina increases 1% HP and Chakra.
Fire Release Master: Fire Skills effects increased 15%
Pockie Ninja Outfit Stat Sheet
Great Strength Agility Stamina
Suit Level +0: ║ 25 ║ 25 ║ 30 ║
Suit Level +1: ║ 35 ║ 35 ║ 42 ║
Suit Level +2: ║ 45 ║ 45 ║ 54 ║
Suit Level +3: ║ 55 ║ 55 ║ 66 ║
Suit Level +4: ║ 65 ║ 65 ║ 78 ║
Suit Level +5: ║ 75 ║ 75 ║ 90 ║
Suit Level +6: ║ 85 ║ 85 ║ 102 ║
Suit Level +7: ║ 95 ║ 95 ║ 114 ║
Suit Level +8: ║ 105 ║ 105 ║ 126 ║
Suit Level +9: ║ 115 ║ 115 ║ 138 ║
Suit Level +10: ║ 125 ║ 125 ║ 150 ║
Suit Level +11: ║ 135 ║ 135 ║ 162 ║
Suit Level +12: ║ 145 ║ 145 ║ 174 ║
Suit Level +13: ║ 155 ║ 155 ║ 186 ║
Suit Level +14: ║ 165 ║ 165 ║ 198 ║
Suit Level +15: ║ 175 ║ 175 ║ 210 ║
Suit Level +16: ║ 185 ║ 185 ║ 222 ║
Suit Level +17: ║ 195 ║ 195 ║ 234 ║
Suit Level +18: ║ 205 ║ 205 ║ 246 ║
Suit Level +19: ║ 215 ║ 215 ║ 258 ║
Suit Level +20: ║ 225 ║ 225 ║ 270 ║
Suit Level +21: ║ 235 ║ 235 ║ 282 ║
Suit Level +22: ║ 245 ║ 245 ║ 294 ║
Suit Level +23: ║ 255 ║ 255 ║ 306 ║
Suit Level +24: ║ 265 ║ 265 ║ 318 ║
Suit Level +25: ║ 275 ║ 275 ║ 330 ║
Suit Level +26: ║ 285 ║ 285 ║ 342 ║
Suit Level +27: ║ 295 ║ 295 ║ 354 ║
Pockie Ninja Outfit Stat Sheet
| Level | Great Strength | Agility | Stamina |
| --- | --- | --- | --- |
| +0 | | | |
| +1 | | | |
| +2 | | | |
| +3 | | | |
| +4 | | | |
| +5 | | | |
| +6 | | | |
| +7 | | | |
| +8 | | | |
| +9 | | | |
| +10 | | | |
| +11 | | | |
| +12 | | | |
| +13 | | | |
| +14 | | | |
| +15 | | | |
| +16 | | | |
| +17 | | | |
| +18 | | | |
| +19 | | | |
| +20 | | | |
| +21 | | | |
| +22 | | | |
| +23 | | | |
| +24 | | | |
| +25 | | | |
| +26 | | | |
| +27 | | | |