Ad blocker interference detected!
Wikia is a free-to-use site that makes money from advertising. We have a modified experience for viewers using ad blockers

Wikia is not accessible if you've made further modifications. Remove the custom ad blocker rule(s) and the page will load as expected.

Character Name
: Little Jun
Gender: Male
Outfit Grade: Orange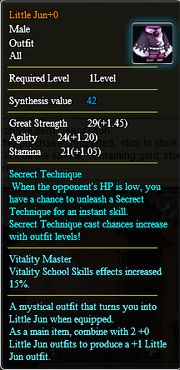 Weapon:
Sharp, Blunt, Fist (all)
Specialty: Vitality
Stats:
Great Strength: 29(+1.45)
Agility: 24(+1.20)
Stamina: 21(+1.05)
13 points of Great Strength increases 1% Attack and 1 point of Block.
14 points of Agility increases 1% Speed and 1 point of Dodge.
11 points of Stamina increases 1% HP and Chakra.
Vitality Master: Vitality Skills effects increased 15%
Suit Level +1: ║ 40.6 ║ 33.6 ║ 29.4 ║
Suit Level +2: ║ 52.2 ║ 43.2 ║ 37.8 ║
Suit Level +3: ║ 63.8 ║ 52.8 ║ 46.2 ║
Suit Level +4: ║ 75.4 ║ 62.4 ║ 54.6 ║
Suit Level +5: ║ 87 ║ 72 ║ 63 ║
Suit Level +6: ║ 98.6 ║ 81.6 ║ 71.4 ║
Suit Level +7: ║ 110.2 ║ 91.2 ║ 79.8 ║
Suit Level +8: ║ 121.8 ║ 100.8 ║ 88.2 ║
Suit Level +9: ║ 133.4 ║ 110.4 ║ 96.6 ║
Suit Level +10: ║ 145 ║ 120 ║ 105 ║
Suit Level +11: ║ 156.6 ║ 129.6 ║ 113.4 ║
Suit Level +12: ║ 168.2 ║ 139.2 ║ 121.8 ║
Suit Level +13: ║ 179.8 ║ 148.8 ║ 130.2 ║
Suit Level +14: ║ 191.4 ║ 158.4 ║ 138.6 ║
Suit Level +15: ║ 203 ║ 168 ║ 147 ║
Suit Level +16: ║ 214.6 ║ 177.6 ║ 155.4 ║
Suit Level +17: ║ 226.2 ║ 187.2 ║ 163.8 ║
Suit Level +18: ║ 237.8 ║ 196.8 ║ 172.2 ║
Suit Level +19: ║ 249.4 ║ 206.4 ║ 180.6 ║
Suit Level +20: ║ 261 ║ 216 ║ 189 ║
Suit Level +21: ║ 272.6 ║ 225.6 ║ 197.4 ║
Suit Level +22: ║ 284.2 ║ 235.2 ║ 205.8 ║
Suit Level +23: ║ 295.8 ║ 244.8 ║ 214.2 ║
Suit Level +24: ║ 307.4 ║ 254.4 ║ 222.6 ║
Suit Level +25: ║ 319 ║ 264 ║ 231 ║
Suit Level +26: ║ 330.6 ║ 273.6 ║ 239.4 ║
Suit Level +27: ║ 342.2 ║ 283.2 ║ 247.8 ║
Pockie Ninja Outfit Stat Sheet
| Level | Great Strength | Agility | Stamina |
| --- | --- | --- | --- |
| +0 | 29 | 24 | 21 |
| +1 | | | |
| +2 | | | |
| +3 | | | |
| +4 | | | |
| +5 | | | |
| +6 | | | |
| +7 | | | |
| +8 | | | |
| +9 | | | |
| +10 | | | |
| +11 | | | |
| +12 | | | |
| +13 | | | |
| +14 | | | |
| +15 | | | |
| +16 | | | |
| +17 | | | |
| +18 | | | |
| +19 | | | |
| +20 | | | |
| +21 | | | |
| +22 | | | |
| +23 | | | |
| +24 | | | |
| +25 | | | |
| +26 | | | |
| +27 | | | |