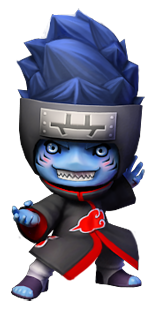 Character Name: Kisame Hoshigaki
Kisame Hoshigaki (干柿鬼鮫), the Monster of the Hidden Mist (霧隠れの怪人), was an S-rank missing-nin from Kirigakure's Seven Ninja Swordsmen of the Mist and was partnered with Itachi Uchiha within Akatsuki.
Playable : Yes
Gender: Male
Outfit Grade: Orange
Weapon:
Sharp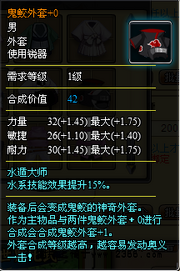 Specialty: Water

Stats:
Great Strength: 32(+1.45)
Agility: 26(1.10)
Stamina: 30(+1.45)
8 points of Great Strength increases 1% Attack and 1 point of Block.
18 points of Agility increases 1% Speed and 1 point of Dodge.
11 points of Stamina increases 1% HP and Chakra.
Water Release Master: Water Skills effects increased 15%
Pockie Ninja Outfit Stat Sheet
| Level | Great Strength | Agility | Stamina |
| --- | --- | --- | --- |
| +0 | 32 | 26 | 30 |
| +1 | 45 | 35 | 41 |
| +2 | 57.6 | 46.8 | 54 |
| +3 | 70.4 | 57.2 | 66 |
| +4 | 83.2 | 67.6 | 78 |
| +5 | 96 | 78 | 90 |
| +6 | 108.8 | 88.4 | 102 |
| +7 | 121.6 | 98.8 | 114 |
| +8 | 134.4 | 109.2 | 126 |
| +9 | 147.2 | 119.6 | 138 |
| +10 | 160 | 130 | 150 |
| +11 | 172.8 | 140.4 | 162 |
| +12 | 185.6 | 150.8 | 174 |
| +13 | 198.4 | 161.2 | 186 |
| +14 | 211.2 | 171.6 | 198 |
| +15 | 224 | 182 | 210 |
| +16 | 236.8 | 192.4 | 222 |
| +17 | 249.6 | 202.8 | 234 |
| +18 | 262.4 | 213.2 | 246 |
| +19 | 275.2 | 223.6 | 258 |
| +20 | 288 | 234 | 270 |
| +21 | 300.8 | 244.4 | 282 |
| +22 | 313.6 | 254.8 | 294 |
| +23 | 326.4 | 265.2 | 306 |
| +24 | 339.2 | 275.6 | 318 |
| +25 | 352 | 286 | 330 |
| +26 | 364.8 | 296.4 | 342 |
| +27 | 377.6 | 306.8 | 354 |