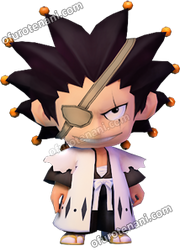 Kenpachi
Kenpachi is a character from bleach. He has already came to the English and the Chinese Realm. These are his stats:
        Thunder Skills Increse 15%

Great Strength: 40(+1.70) || Max(+2.00)
Agility: 36(+1.60) || Max(+1.90)
Stamina: 34(+1.20) || Max(+1.50)
 How to obtain: Tornaments, Top-up package.

 Kenpachi Secret Technique and Advance Secret Technique below:

 http://www.youtube.com/watch?v=z5Bx076KUJg

 http://www.youtube.com/watch?v=VucsiYLLk0U&feature=related

Ad blocker interference detected!
Wikia is a free-to-use site that makes money from advertising. We have a modified experience for viewers using ad blockers

Wikia is not accessible if you've made further modifications. Remove the custom ad blocker rule(s) and the page will load as expected.