Skill Name: Fireball
Skill Picture:

Damage:130%
Skill Effect:Ignite drunken enemy, causing 40% skill damage
Duration:12 seconds
Launch Timing:by yourself
Requirements:NaN
Proc-rate:33%
Limitation:NaN
Chakra Consumption:33 points
Description: Concentrate Chakra on mouth to form a fireball. Uchiha family are good at this ninjutsu.
In game pic: \/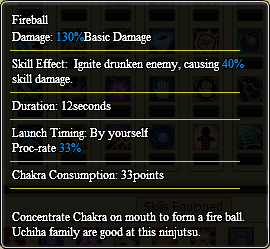 Ad blocker interference detected!
Wikia is a free-to-use site that makes money from advertising. We have a modified experience for viewers using ad blockers

Wikia is not accessible if you've made further modifications. Remove the custom ad blocker rule(s) and the page will load as expected.